Welcome to my page about SalixOS.

On these pages you will find some tips and tricks for SalixOS.
Salix OS
is based on
Slackware
, which is a very stable distribution and which i have used before.
A full installation contains among others XFCE desktop environment, Firefox browser, claws-mail E-mail client, LibreOffice productivity suite, Java, Parole Media Player, Exaile Music Manager and gslapt package manager and others.
Salix OS is available in six different versions of XFCE, KDE, LXDE, Fluxbox, Ratpoison and MATE.
Salix OS has some custom tools to simplify the settings that Slackware does not have, these programs have i translated to Swedish.
There has been no CD-labels/inserts to Salix OS so i have made some, they are aviable on this page.
You can download Salix OS on their website.
Salix OS Features
one application per task on the installation ISO
fully backwards compatible with Slackware
optimized for desktop usage
high quality package repositories with dependency support
incredibly fast package tools
simple & fully localized system administration tools
installation ISO fits on a single CD
supports 32-bit and 64-bit architectures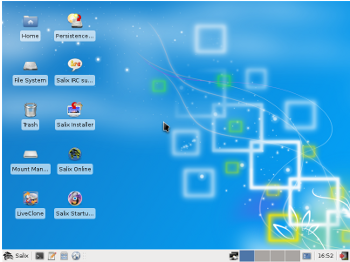 Changed: 12-Aug-2012